Harrods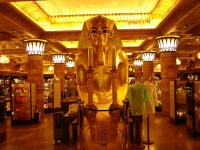 Harrods, London © Targeman
Harrods, which former proprietor Mohamed Al Fayed called his 'Palace in Knightsbridge', promises one of the most extravagant and luxurious shopping experiences in the world. With 22 restaurants, and a wide range of departments and services across its seven floors, it is easy to see why this is the shopping choice of London's social elite. With its prominent position on Brompton Road, Harrods is hard to miss - especially at night, when the entire façade is illuminated by a grand total of 11,500 light bulbs. The UK's biggest store by a long way, Harrods certainly makes good on its motto Omnia Omnibus Ubique - All Things for All People, Everywhere.
Address: 87-135 Brompton Road, Knightsbridge
Website: www.harrods.com
Transport: Knightsbridge underground station, or London bus routes 9, 10, 14, 19, 22, 52, 74, 137, 414, 452 and C1
Opening times: Open Monday to Saturday, with reduced hours on Sunday.