Greenwich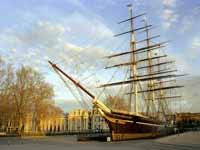 Greenwich is the home of the Greenwich (or Prime) Meridian, which splits the globe into East and West, and is responsible for setting the world clock on zero degrees longitude. Apart from this curious distinction (which has earned Greenwich UNESCO World Heritage Site status), Greenwich has a host of other attractions, including the Greenwich Market with its variety of arts, crafts, food and bric-a-brac, Sir Christopher Wren's Royal Observatory, and the National Maritime Museum. Greenwich Park is beautifully landscaped and is an ideal location for a picnic lunch. The famous tea-clipper, the Cutty Sark, was damaged by a fire in May 2007 and has been closed to the public since then; however, extensive restoration of the beautiful 19th-century ship has been undertaken, and it should be open again to visitors from June 2012.
Website: www.greenwichengland.com
Telephone: (0)870 608 2000
Transport: Accessible by Docklands Light Railway, the London Underground, by train and by boat
Opening times: Greenwich Market: Open daily from 9am to 5.30pm; National Maritime Museum and Royal Observatory Greenwich: Open daily from 10am to 5pm.
Admission: Free admission to the National Maritime Museum, the Royal Observatory and the Queen's House