National Gallery of Scotland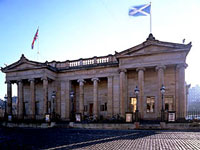 The National Gallery of Scotland is situated in the heart of Edinburgh and is home to Scotland's greatest collection of European paintings and sculpture from the Renaissance to Post-Impressionism. The museum opened to the public in 1859 and includes works by Botticelli, Cézanne, Van Dyck, Pisarro, Monet, Raphael, Rembrandt, and Titian. The Gallery also boasts the most comprehensive collection of Scottish painting in the world. Regular temporary exhibitions bring exciting art works to the gallery. Internationally recognised as having one of the best fine arts collections in the world, the National Gallery is a must for art lovers in Edinburgh.
The Scottish Portrait Gallery can be found nearby at 1 Queen Street and includes great paintings of Scots rather than by Scots. The gallery takes visitors through Scottish history by introducing them to the characters that have shaped the country's history and captured the national imagination. Both museums are housed in impressive buildings, but the wall murals in the Portrait Gallery are one of the most striking features of the museum, making it worthwhile to pop into the foyer of the gallery even if you don't have time for a thorough exploration. Both galleries have good cafes on site.
Address: The Mound, Princes Street
E-mail: enquiries@natgalscot.ac.uk
Website: www.nationalgalleries.org
Telephone: (0)131 624 6200 or 332 2266 (recorded information)
Opening times: Open daily, from 10am to 5pm (until 7pm on Thursdays)
Admission: Free admission, though there may be a charge for special exhibitions