Burrell Collection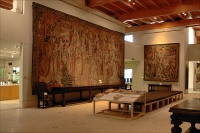 Burrell Collection © Jean-Pierre Dalbera
Glasgow's top cultural attraction was donated by the shipping magnate Sir William Burrell in 1944. Over his lifetime, Burrell amassed more than 8,000 works of art. The collection includes hundreds of sculptures, drawings and paintings from the 15th century to the present, some notable medieval European tapestries, as well as artefacts from Arabia and the Orient. The collection is housed in a functional, purpose-built building set in the sedate surroundings of Pollok Country Park.
Although it may seem unassuming, the building was meticulously designed to showcase the collection and complement the natural landscape. Within walking distance of The Burrell is Pollok House, which contains a fine collection of Spanish paintings including works by Goya, Murillo and El Greco. The Edwardian house is the ancestral home of the Maxwell family, who donated the house and the collection to the National Trust in 1966.
Currently undergoing extensive renovations, the Burrel Collection is set to reopen in 2020. The changes to the museum will increase its floor space fourfold, allowing 90% of Burrel's collection to be on display at any given time.
Address: 2060 Pollokshaws Road, Pollok Country Park
E-mail: museums@glasgowlife.org.uk
Website: www.glasgowlife.org.uk/museums/burrell-collection/Pages/default.aspx
Telephone: (0)141 287 2550
Transport: Train from Glasgow Central to Pollokshaws West; or public bus 45, 47, 48 or 57
Opening times: Monday to Thursday and Saturday 10am to 5pm, Friday and Sunday 11am to 5pm.
Admission: Free admission