Tokyo Imperial Palace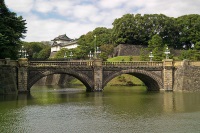 Tokyo Imperial Palace © Fg2
Japan's Imperial Palace is regarded as the heart and soul of Tokyo, standing on a huge site that still bears the remains of Edo Castle, stronghold of the Tokugawa shogunate. The present palace was completed in 1888 and is still home to the emperor of Japan. The palace is off-limits but its grounds and surrounds provide a much-needed green open space for the city with Higashi Gyoen (East Garden), site of the Edo Castle keep, open to the public. On January 2nd and December 23rd each year visitors are able to enter the inner grounds and see the Imperial family make public appearances from the balcony. Guided tours of the palace are offered, but are only in Japanese, although an English pamphlet and audio guide are provided. These tours must be reserved in advance through the Imperial Household Agency. Be sure to take along your passport when you go to reserve a spot. In spring the gardens are awash with colour when the cherry blossoms are in bloom, particularly along the castle moat. Year-round the Imperial Palace is bustling with lots to see including a few small museums, some wonderful landscaping and many symbolic ornamental touches like the plants from every prefecture dotted strategically around the palace.
Transport: Subway to Tokyo station.
Opening times: East Garden is closed on Mondays and Fridays. Otherwise it is open daily 9am-4pm (until 3:30pm between November and February). Gardens closed from 28 December to 3 January and when Imperial Court functions take place.
Admission: Free