Yasukuni Shrine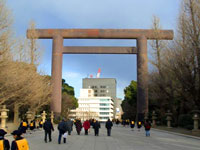 Torii gate, Yasukuni Shrine ©
To the north of the Imperial Palace lies the controversial Yasukuni Shrine, built long ago to commemorate those Japanese who died in war and now regarded as home to the souls of about two and a half million who perished in conflict, mostly in the Pacific War of World War II. Japanese soldiers fought in the knowledge that their spirits would find rest and honour at Yasukuni in the afterlife. The shrine has caused controversy for various political reasons over the years since it was built in 1869 in honour of supporters of the emperor who were killed in the run up to the Meiji Restoration. More recently, with regard to the country's constitution that requires the separation of state and religion, cabinet ministers have been criticised for attending anniversaries of Japan's defeat in World War II held at the shrine. The shrine is confined behind a huge steel torii (gate), opening onto a long avenue lined with gingko and cherry trees. The Worship Hall itself is a simple Shinto style building. North of the shrine is the Yushukan Museum, containing war memorabilia, some of which is disturbing and thought-provoking such as the human torpedo and kamikaze suicide attack plane. The shrine and museum will be fascinating for those interested in military history.
Address: 3-1-1 Kadunkita, Chiyoda-ku
Website: www.yasukuni.or.jp
Telephone: (03) 3261 8326
Transport: Subway to Kudanshita Station
Opening times: Shrine open 24 hours daily. Museum open daily 9am-4:30pm.
Admission: JPY 800 (adults); concessions available.