Edo-Tokyo Museum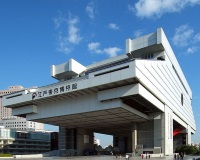 The Edo-Tokyo Museum © Wiiii
Tokyo's museum dedicated to detailing the city's history, art, culture and architecture through the medium of visual displays is an impressive, not to be missed attraction. Edo was the old name for Tokyo from its foundation in 1590 when it became the seat of Tokugawa Ieyasu, the first shogun. Exhibits include a replica of an ancient Kabuki theatre, maps, photographs and portrayals of the lives of the city's merchants, craftsmen and townspeople in days gone by. It is a huge museum which takes a few hours to explore properly and should captivate people of all ages. There are numerous interactive exhibits and many intricate models with such wonderful detail that binoculars are provided for visitors to better appreciate them. Traditional performances are held in the recreated theatre, which is not the only historic building to be recreated life-size. If you are interested in Tokyo's general history then this is the best museum to start with to get an overview of the city's development; a wander around the Edo-Tokyo Museum will enrich your experience of the city. Volunteers give regular free tours of the museum and many of them speak fluent English. There is good English signposting and information throughout the museum. A small restaurant attached to the museum provides tasty meals at a reasonable cost.
Address: 1-4-1 Yokoami, Sumida-ku
Website: www.edo-tokyo-museum.or.jp
Telephone: (0)3 3626 9974
Transport: Train to Ryogoku Station on JR Sobu line (West Exit) or subway to Ryogoku on the Oedo line (A3/A4 exit)
Opening times: Daily 9:30am to 5:30pm, closing at 7:30pm on Saturday. Closed on Monday.
Admission: JPY 600, concessions available.