Akihabara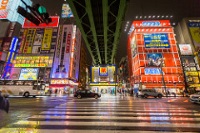 Akihabara by night © IQRemix
Tokyo's electronic wonderland has become world-renowned. In a small area near Chuo-dori Avenue, west of Akihabara Station, are clustered more than 250 electrical appliance and electronics shops, many of them now dealing in computer hardware and software, where expert staff can answer queries and visitors can browse through the showrooms of major manufacturers. There are duty-free shops and various events to draw attention. The suburb has been specialising in electrical equipment since the 1940s and is now regarded as the world's biggest and best electrical equipment enclave. Although the cheap and impressive technology draws many visitors this is also a paradise for gamers, geeks and anime and manga fans, with shops full of merchandise and numerous arcades. The arcades carry everything new and novel but also have many of the vintage games that are difficult to find these days. The neighbourhood is a riot of colourful advertising and a fun place to do some people watching, if nothing else. There are a lot of restaurants and fast food joints to try out and some funky themed eateries. Akihabara is also an entertaining area to stroll around at night, when everything is lit up and neon.
Website: www.akiba.or.jp/english/index.html
Transport: Subway to Akihabara Station
Opening times: Stores are open 10am to 7pm daily.