Tokyo National Museum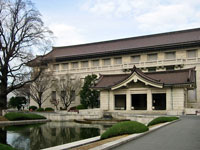 Tokyo National Museum © PHG
Close to Ueno Station, and enclosed in the beautiful, spacious park of the same name - also called the Tokyo Metropolitan Imperial Gift Park - the National Museum boasts the largest collection of Japanese art in the world. Exhibits range from antique kimonos and delicate pottery to woodblock prints and archaeological finds. The vast collection is displayed on a rotating basis with at least 4,000 artefacts visible at any time, so the museum always has something new to offer. The museum consists of five different buildings containing numerous galleries, so one needs sufficient time to do it justice. The museum allows great insight into Japanese culture, history and art and is a great first-stop in Tokyo as some knowledge of the culture enriches all the other attractions. The Imperial Gift Park is a lovely place to enjoy a stroll, with big ponds and shaded areas to rest; the grounds also contain some other cultural institutions, including a zoo, the Metropolitan Art Museum, Bunka Kaikan Cultural Hall, the Western Art Museum and the National Science Museum. There should be something here to interest the whole family and all the educational attractions can easily fill a whole day of sightseeing.
If you are travelling with children in Tokyo, be sure to visit the Ueno Zoo, which is the oldest zoological garden in Japan. Boasting exotic animals such as giant pandas, polar bears, Indian lions, Sumatran tigers, wolverines and gorillas, children of all ages will love this zoo. It also features a Small Mammal House, Reptile House and even a petting zoo where children can meet Okapis and aye-ayes, two very rare species.
Address: 13-9 Ueno Park,Taito-ku
Website: www.tnm.go.jp
Telephone: (0)3 3822 1111
Transport: JR Line to Ueno or Uguisudani Station
Opening times: Daily 9:30am to 5pm, depending on season; closed Mondays. On Fridays from March to December open until 8pm; Saturdays and Sundays from March to September until 6pm.
Admission: JPY 620 (adults), JPY 410 (students), free for scholars.