Kyoto Imperial Palace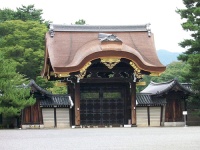 Japan's imperial family lived in the Kyoto palace from 1331 until 1868 (when they moved to Tokyo), and today visitors can view the furnishings and delicate decorations on guided one-hour tours of the city's Imperial Palace. It is necessary to reserve a tour in advance by calling at the Imperial Household Agency office in the Kyoto Imperial Park, which surrounds the palace. To join a tour you need to produce your passport. Be sure to book as far in advance as possible to avoid disappointment. The palace complex is divided into two sections: a huge park area which you can explore any time without joining a tour; and a walled inner-enclave which houses the actual palace and more lovely gardens. Visitors should note that even on the official tours it is impossible to enter any of the palace buildings, although you should be shown a video and photos showcasing the interiors. Tours are conducted in English and are very informative but don't imagine that they are intimate and casual - the groups often consist of more than a hundred people and the rules are rigid. There are lockers at the site to store anything you don't want to carry while walking around the complex. The palace is a wonderful attraction and well worth the effort it takes to join a tour.
Telephone: (0)75 211 1215
Transport: Karasuma Subway line from Kyoto Station to Marutamachi or Imadegawa Station
Opening times: Daily tours at 10am and 2pm, except weekends. Closed for official functions and from 28 December to 4 January.
Admission: Free