To-ji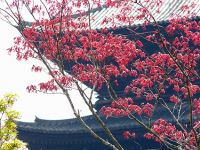 To-ji, with the tallest pagoda in Japan, was the Buddhist temple founded in 794 as guardian of the then young capital city's welfare. Today it stands about 10 minutes walk to the south of Kyoto Station, drawing curious tourists to admire in particular its five-storey pagoda, which was rebuilt in the mid-17th century. During the span of centuries a treasure trove of statuary, calligraphy and paintings has been collected at the temple, now housed in the various historic buildings making up the temple complex. The statues include a six-metre-tall Senju Kannon (thousand-arm Buddhist Goddess of Mercy) carved in 877. The gardens at the temple are lovely and the temple is an active place of worship which holds many ceremonies and religious services, giving the place a serene and authentic atmosphere which the popular tourist temples sometimes lack. Although many foreigners do choose to visit To-ji, the majority of people at the temple are locals there to pray and worship. There are many temples in the area but To-ji stands out because of its historic pagoda. A well-known flea market is held on the 21st of every month and it boasts an amazing collection of antiques and a few local crafts, although there is not much in the way of food.
Address: 1 Kujo-cho, Minami-ku
Website: www.toji.or.jp
Telephone: (0)75 671 9612
Opening times: Daily 9am to 4:30pm (September to mid-March); 9am to 5:30pm (mid-March to August).
Admission: JPY800 admission is charged for the Main Hall and pagoda.