Sanjusangen-do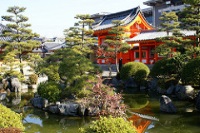 Sanjusangen-do © Eric Salard
The temple of Rengeoin, in eastern Kyoto, is better known by its popular name of Sanjusangen-do, and houses an amazing sight. Inside the longest wooden building in Japan stand row upon row of life-sized statues of Kannon, the goddess of mercy, carved from Japanese cypress and covered in gold leaf in the 12th and 13th centuries. There are 1,001 statues altogether and each is unique, bearing a religious symbol or making a religious gesture. The statues surround the large, central figure of a seated Kannon, carved in 1254 in the Kamakura Period. The building and statues were once part of a large Buddhist temple complex known as the Lotus King Temple which was sadly destroyed leaving only a few buildings intact. The effect of all the golden statues, which create a kind of yellow haze, is mystical and somewhat hypnotic, giving credence to the local myth that if you stare at them for long enough one of the statues will assume the form of a loved one. No photos are allowed inside but you are permitted to photograph the outside of the building and the lovely grounds. There is a gift shop where you can buy some souvenirs at a reasonable cost. There are guides and prayer books in English for those who want more information.
Address: Shichijo Dori
Transport: Bus 100, 206 or 208 to Hakubutsukan Sanjusangendo-mae.