Kiyomizu-dera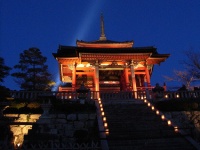 The 'Pure water temple', Kiyomizu-dera, is one of Japan's most celebrated temples, founded in 780 and associated with Nara Buddhism, the oldest sect in Japan. The temple is a UNESCO World Heritage Site and one of its main features for tourists is the lovely view afforded of the wooded hills of eastern Kyoto from its terrace. Below the terrace is the spring from which the temple got its name; visitors can sample the water, which is said to have healing powers. Nearby is an interesting three-storey pagoda, and the Otawa Falls. The approach to the temple, along Kiyomizu-michi or Gojo-zaka, is steep and narrow, the streets lined with stores specialising in local sweets, pottery and the inevitable souvenirs. Behind the temple is the Shinto Jishu Shrine, dedicated to the god of love. There is lots to see and do in the temple complex, which tends to be bustling with visitors and worshipers, and provides a fascinating cultural and historical experience for foreigners. The gardens are beautiful and, like many in Japan, are at their best when the cherry blossoms bloom in spring or when the leaves are at their most radiant in autumn. It is especially lovely to stay until it is dark (when possible) to see the temple light up at night.
Website: www.kiyomizudera.or.jp
Telephone: (0)75 551 1234
Transport: 15-minute bus ride (100 or 206) from Kyoto Station to Kiyomizu-michi or Gojo-zaka stop
Opening times: The temple opens daily at 6am but closing times vary according to season.
Admission: JPY300 adults, JPY200 students.