Somers's Wharf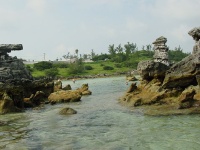 Tobacco Bay, near Somers' Wharf © Captain-tucker
Somers Wharf is steeped in the varied and vibrant history of St. George's. The Wharf has commanded a bird's-eye view of the Old Town's fascinating maritime past, situated on the picturesque edge of St George's Harbour.
Today, Somers's Wharf is a tastefully redeveloped area on the waterfront with a selection of shops and restaurants. The Carriage Museum has a collection of well-maintained carriages ranging from a dog-cart to a four-horse brake that ruled the roads until as recently as 1946 when cars were legalized. Situated nearby is Tobacco Bay, a good spot for swimming and snorkelling.
Address: Pennos Drive, St George's Town.
Website: www.somerswharf.com