Peace Memorial Park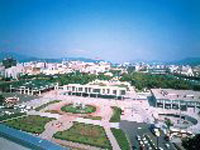 Around the epicentre of the atomic bomb explosion in Hiroshima in 1945, a complex of buildings and monuments has been erected in the Peace Memorial Park to commemorate the earth-shattering event. It is dedicated to the promotion of world peace. Central to the park is the only remaining city building damaged in the blast. It was formerly the Industrial Promotion Hall, but is now known as the Atomic Bomb Dome and has been declared a UNESCO World Heritage Site. The park also contains the Peace Memorial Museum, featuring exhibits that graphically portray the horrible effects of the bomb on the city and its citizens. Between the museum and the dome stands the Memorial Cenotaph containing a stone chest, inside which is a list of all those killed in the explosion or who died subsequently from the long-term effects caused by radiation. The Cenotaph also houses the peace flame, which will burn until nuclear war is no longer considered a threat to humanity. Other monuments contained in the solemn park include the Statue of the A-Bomb Children and the Atomic Bomb Memorial Mound that contains the ashes of tens of thousands of unidentified victims. The Peace Memorial Park is a must for all those visiting Hiroshima and an important place to mourn, reflect and pay tribute for locals and foreigners alike.
Address: 1-2 Nakajima-cho, Naka-ku
Website: www.pcf.city.hiroshima.jp/index_e2.html
Telephone: Museum: (0)82 242 7798
Transport: Hiroshima bus to Yoshijima alighting at the Heiwa Kinen Koen (Peace Memorial Park) bus stop; or HiroshimaPort streetcar to Chuden-Mae, or Eba streetcar to Genbaku Domu Mae (A-bomb Dome) stop
Opening times: Museum: daily 8:30am-6pm (March to November); 8:30am-7pm (August); 8:30am-5pm (December to February).
Admission: ¥50 (adult), ¥30 (child)