Hiroshima City Museum of Contemporary Art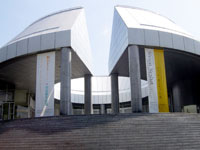 Hiroshima boasts the first public art museum in Japan devoted exclusively to contemporary art. The museum was founded in 1989 and is housed in an interesting building designed by Japanese architect Kurokawa Kisho, based on the shape of a Japanese warehouse (Kura). The building is set high on a hill in Hijiyama Park, famed for its cherry blossoms and splendid city views. The museum itself contains the works of established and up-and-coming Japanese artists covering a range of different mediums, and hosts regular temporary exhibitions which can be very interesting. For those not familiar with Japanese art the museum has provided information books on the individual artists represented, written in English; however, aside from these, there is very little signposting or information in English. There is an outdoor sculpture garden to enjoy in the lovely grounds, and the Hiroshima Manga Library is also located here. The museum is a little bit out of the way but those interested in contemporary Japanese art should find the effort rewarding, and a stroll in the grounds is pleasant. For the idly curious who are not big art fans, this attraction will probably be a bit dull or bewildering.
Address: Hijiyama Koen
Website: www.hcmca.cf.city.hiroshima.jp/web/main_e/index.html
Telephone: (0)82 264 1121
Transport: Bus or streetcar from Hiroshima Station
Opening times: Tuesday to Sunday 10am-5pm.
Admission: ¥360 (adults), ¥270 (students), ¥170 (scholars).