Hiroshima Castle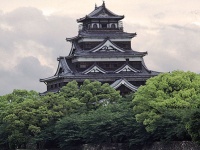 Hiroshima's original castle, built in the late 16th century, was totally destroyed in the atomic blast during World War II but has been reconstructed as a perfect replica of the original. When the castle was established by a feudal lord in 1589 Hiroshima didn't exist; the city that grew around the fortress took its name. At the time the area was called Gokamura, meaning five small villages, and the lord ruled over a vast territory spanning nine provinces from the stronghold. The castle now houses a museum detailing the region's history up until World War II and particularly the historic feudal system. The exhibits include some models of ancient Hiroshima and the castle and, for those who like playing dress-up, there are even some traditional costumes to try on. The museum is informative and easy to navigate with plenty of information in English. There is a great lookout point at the top of the castle which affords some nice photo opportunities. The grounds are also lovely, housing three trees, a eucalyptus, a willow, and a holly, which survived the bombing in 1945 and endure to this day. One of the most popular tourist attractions in Hiroshima, the castle is definitely worth a visit for anybody with an interest in history.
Address: 21-1 Motomachi, Naka-ku
Website: www.rijo-castle.jp/rijo/main.html
Telephone: (0)82 221 7512
Transport: Streetcar from Hiroshima station to Kamiya-cho station on lines 1, 2 or 6; it is a 10-minute walk from there
Opening times: Daily 9am to 5.30pm; 9am to 4:30pm (October to March).
Admission: Castle tower: JPY360 (adults), JPY180 (children). Castle grounds free.