Shofukuji Temple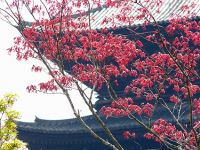 The Shofukuji Temple was the first Zen temple to be built in Japan. It was founded in 1195 by the priest Eisai who introduced the Rinzai sect of Zen Buddhism into Japan from China. The wooden buildings have been destroyed and rebuilt many times over the centuries but they are exact replicas of the original structures. In the temple grounds are the remains of two other ancient temples, Jotenji and Tochoji, as well as a number of other structures. Unfortunately the ancient temple buildings cannot be entered but visitors can explore the lovely temple grounds and examine the exteriors of the buildings. Photography is welcome. Although the temple complex is a historic and ancient site it is not frequented by tourists and is seldom crowded, although locals do visit regularly. As a result it is a peaceful and serene place which affords a nice break from the busy city; the age and history of the temple is almost palpable. It is a lovely spot for a walk or rest and there is a lot to see in the complex, although there is little information provided on what you are seeing.
Address: 6-1 Gokuso-machi, Higashi-ku
Telephone: (0)92 291 0775
Transport: Subway to Gion station.
Opening times: Shofukuji Temple is always open.
Admission: Free