Fukuoka Asian Art Museum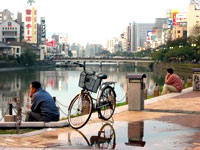 Fukuoka's Asian Art Museum is housed in a new complex in the Shimokawabata district of Hakata Ward, in the heart of the city. The museum houses a collection of more than 1,000 works including paintings, sculptures, prints and handcrafts. It also serves as a centre for art education. This popular modern museum offers a wide array of contemporary Japanese art and art from many other Asian countries; if you are lucky you will even get the chance to watch some local artists at work in the museum. It is a small museum but gives an impressively comprehensive overview of current trends in the region. The permanent collection is wonderful and should appeal both to the uninitiated and those well-versed in Asian art. There are regular temporary exhibitions and special events as well. There is a lovely little cafe attached to the museum, which is particularly nice on sunny days when visitors can sit outside. There is also a gift shop with gorgeous postcards, prints and books for souvenirs, and a children's play area to keep the kids occupied. The museum is situated in an interesting part of town, and it is fun to stroll around the area and explore a bit after your visit.
Address: Riverain Complex, 3-1 Shimokawabata-machi, Hakata-ku
Website: faam.city.fukuoka.lg.jp/eng/home.html
Telephone: (0)92 263 1100
Transport: Subway to Nakasu-kawabata station.
Opening times: Daily 10am to 8pm. Closed Wednesdays, and from 26 December to 1 January.
Admission: JPY200 (adults), JPY100 (children). Admission for special exhibitions varies.