Mount Aso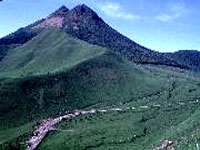 The composite active volcano of Mount Aso lies almost in the centre of Kyushu Island and is Japan's largest active volcano and among the largest in the world. Mount Aso also boasts one of the world's largest caldera (volcanic depressions), which stretches about 11 miles (18km) from east to west and 15 miles (24km) from north to south. Inside the caldera are five volcanic peaks: Mount Neko, Mount Naka, Mount Eboshi, Mount Taka and Mount Kishima. Mount Naka is still active and regularly emits smoke and ash. The rest of the landscape inside the caldera is beautifully green and grassy, grazed by cows and horses and inhabited by about 50,000 people in several towns and villages, seemingly not perturbed by living inside a volcanic crater. In the city of Aso there is a museum dedicated to the volcano which is worth visiting for those interested in the region's remarkable geology. At the museum visitors can watch presentations about Aso in addition to viewing a live image from a camera positioned at the active crater site. There is a cableway up to the Mount Aso crater lake, called the Mount Aso Ropeway, which allows visitors to see the steaming turquoise water up close, but when the sulphur level rises too high the site is closed as the fumes can become toxic.
Telephone: (0)96 734 2111
Opening times: Aso Volcano Museum open daily 9am-5pm.