Historical Village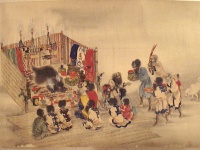 The impressive and entertaining outdoor museum village, depicting Hokkaido life in days of old, is situated in Sapporo at Atsubetsu Ward in a corner of the Hokkaido Nopporo Forest Park. The site features restored or recreated buildings from the Meiji and Taisho periods, and includes edifices like the old Sapporo railway station, old Otaru newspaper company buildings, fishermen's cottages, mountain villas and the like. Horse-drawn trolleys run through the village and in winter horse-drawn sleighs carry visitors around the site. The historical village is a popular and worthwhile attraction which is fun to explore and should entertain the whole family for a few hours.
For those particularly curious about the local culture and history, who enjoyed the historical village, it is also interesting to pop into the Hokkaido Ainu Centre which is a free attraction a little further out of Sapporo. The Ainu people, with their unique culture, have lived on the island of Hokkaido for hundreds of generations. The Ainu Centre details the history and culture of the island's indigenous people using interesting exhibits and demonstrations and makes the perfect companion attraction for the historical village. The centre is open daily from 9am to 5pm, except on Sundays when it is closed.
Address: Konopporo 50-1, Atsubetsu-chyo
Website: www.kaitaku.or.jp/info/info.htm
Telephone: (0)11 898 1000 (recorded information)
Opening times: Daily except Mondays 9am-4:30pm (October to May), and 9am-5pm (June to September).
Admission: Summer: ¥830 (adults), ¥610 (students). Winter: ¥680 (adults), ¥550 (students).