Sapporo Beer Museum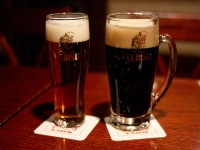 If you are here for the beer, which is possible because Sapporo beer is known throughout the world, then a visit to the beer museum in the historic Sapporo Brewery building is a must, together with a tour of the brewery itself, which, of course, ends with a tasting. The red brick brewery building has been home to the Sapporo Beer Company, third-largest beer producer in Japan, since 1876. One-hour tours are conducted at 15-minute intervals every day throughout the year; however, these are in Japanese only. It is possible to book in advance and request an English interpreter and the people at the front desk will happily provide an English leaflet detailing a brief history of Sapparo beer. Despite the fact that the exhibits are almost totally in Japanese it is still interesting to see the old photographs, memorabilia and visual evolution of the brand. There are lockers at the entrance so you don't have to carry stuff around, and there is a little gift shop for souvenirs. There are also two restaurants at the brewery for those who want to make a meal of it. Beer fanatics should note that the Sapparo Classic beer is not sold outside of Hakkaido, although if you purchase some at the brewery they will post it to your address elsewhere in the country.
E-mail: museum@sapporobeer.jp
Website: www.sapporobeer.jp
Telephone: (0)11 731 4368
Transport: Subway to Higashi-kuyakusho station
Opening times: Monday to Friday 9am to 6pm.
Admission: Free; a fee is charged for tasting.