Church of the Holy Sepulchre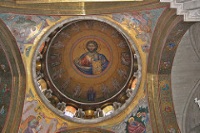 Church of the Holy Sepulchre © Meaghan O'Neill
As the site of Jesus' crucifixion, burial and resurrection, the Church of the Holy Sepulchre is the holiest Christian place in Jerusalem. Emperor Constantine constructed it in 326, and its structure has suffered frequent damage over the centuries. Repairs have been undertaken by the religious communities that administer it.
The Church contains the Chapel of Golgotha, and the three Stations of the Cross where Jesus was crucified. The Sepulchre itself marks the place of his burial and resurrection.
This incredible church is filled with treasures and should be of great historical and architectural interest regardless of one's religious beliefs. It is an absolute must for Christians. The church is home to several Christian denominations.
The church is not a museum and does not display a lot of information. For this reason, travellers should either join a good tour or do some research before visiting. Also, the church can get very crowded and visitors may have to queue for a long while. It's a good idea to arrive early in the morning. Those visiting in the hope of a tranquil environment in which to pray and worship may be disappointed if they visit at a busy time. The tomb can only be entered by five people at a time so there is usually a long queue for this privilege as well.
Address: Via Dolorosa, Old City.
Website: https://churchoftheholysepulchre.net
Transport: Bus to Jaffa Gate; from there, a walk through the Old City.
Opening times: Daily from 5am to 9pm (April to September), and 5am to 7pm (October to March).
Admission: Free