Temple Mount (Al-Haram al-Sharif)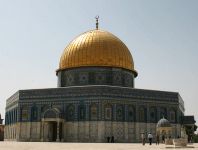 Temple Mount, known by some as Mount Moriah, is a site of tremendous religious importance to Muslims, Jews and Christians alike. It is one of Jerusalem's most famous landmarks and can be found within the walled section of the Old City. The glinting golden dome of the Dome of the Rock rises impressively from Jerusalem's skyline and has become the city's most distinguishable feature. Temple Mount is of Jewish and Christian historical importance on two accounts: the large rock is believed to be the place where Abraham offered his son Isaac up for sacrifice, and the First Temple is the place where the Ark of the Covenant is said to have been housed. Even though off limits to Jews today, it is still a focal-point of Jewish life, and Jews worldwide face the Temple Mount during prayer. For Muslims the same rock is the place from which Muhammad, in a dream, ascended to heaven. In commemoration of this apotheosis, the Dome of the Rock was built over the site in the 7th century. It is known to Muslims as the Noble Sanctuary or Al-Haram al-Sharif, and is one of the three most important sites in Islamic culture. Also located on the Temple Mount are the Al Aqsa Mosque and the Islamic Museum, which houses a collection of Korans and other Islamic relics.
Address: Temple Mount, Old City
Telephone: (02) 628 3393
Transport: Bus to the Dung Gate
Opening times: The site is temporarily closed to non-Muslims due to religious tensions. Usually, it is open Saturday to Thursday, (in summer) from 7.30am to 11am and from 1.30pm to 3pm; and (in winter) from 8am to 10.30am and 12.20pm to 2pm. Closed on Fridays and during prayer times
Admission: NIS 36 (Dome of the Rock, Al Aqsa Mosque and Islamic Museum); Temple Mount admission is free.