Western Wall (HaKotel HaMaaravi)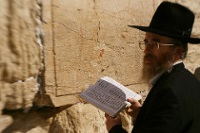 Western Wall © Brian Jeffery Beggerly
The Western Wall (Wailing Wall to non-Jews) is the most sacred Jewish prayer-site in the world. Thousands of worshippers gather year-round to pray here, and to place folded written prayers into the wall's crevices. The wall is all that remains of the Second Temple of Jerusalem, built by King Herod in 20 BCE. It is made up of enormous stone blocks, and endures as a tribute to the scale of workmanship in past eras.
Following Orthodox Jewish practice, the praying sections have been separated for men and women. Men are required to wear a skullcap (kippah) and women must be modestly dressed. On Fridays (Jewish Sabbath) the men's section pulsates with the faithful's songs and prayers. In principle, the whole area is an Orthodox synagogue. The wall is also sacred to Muslims, who believe that it is where the prophet Muhammad tied up his winged horse, al-Buraq, before ascending into heaven.
For those interested in the historical and architectural aspects of the Western Wall, an interesting tunnel tour takes visitors through excavations along the Wall. It is much more extensive than is visible from the famous square.
Visitors should be prepared to go through security and have their bags checked at the site. Also, photography is not allowed at certain times, like when there are holy events.
Address: Temple Mount, Old City
Transport: Bus to Dung Gate.