Via Dolorosa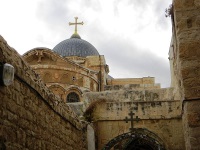 Ninth Station © Britchi Mirela
The Via Dolorosa (Road of Sorrow) is the route Jesus is said to have followed as he carried the cross to his crucifixion. There are 14 stations along the way commemorating different events, starting at Lion's Gate in the Muslim Quarter of the Old City, where Jesus was convicted by Pontius Pilate, and ending at his tomb inside the Church of the Holy Sepulchre in the Christian Quarter. A steady stream of pilgrims remember and honour Jesus' sacrifice by walking the Way of the Cross every year.
Every Friday at 3pm, priests lead a procession and prayers are said at each station. A semi-circle of pavement stones marks every stop, and a wall bears the station's number in Roman numerals. Some stations have additional inscriptions.
Many churches belonging to different Christian denominations line the path. Visitors usually enjoy entering as many as possible and comparing different interpretations of the Via Dolorosa and of Christ. There are also a few secular attractions along the way, with shops, cafes, restaurants and other sights and distractions for those who want a less solemn religious excursion.
Historically speaking, the pathway is unlikely to be the exact route walked by Jesus. Still, it is a profound walk of faith for many Christians, and an interesting cultural experience.
Address: Via Dolorosa, Old City
Transport: Bus to Lion's Gate.