Yad VaShem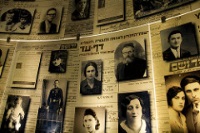 Yad VaShem © israeltourism
The museum documents and commemorates the events of the Holocaust, and also furthers education through ongoing research into the period. In this way, it honours the millions of Jews who died during World War II.
Visitors will find the world's largest and most comprehensive collection of Holocaust material, which includes documents, photographs, films and videotaped testimonies of survivors. These can be read and viewed in the allocated rooms. Engaging with the information is a sobering, emotional experience.
The Hall of Names recognises the Holocaust's six million victims, and is an inspiring tribute to them. Symbolic gravestones display information from the 'Pages of Testimony', which were the deceased's biographical records. The library contains an impressive collection of material in many languages.
Regarding its scope, Yad VaShem chronicles the Holocaust's history from the implementation of anti-Jewish policies to the mass murders in concentration camps. The display includes photographs, artefacts, documents and audio-visual material. An important collection of Holocaust art is also displayed in Yad Vashem's Art Museum. The International School for Holocaust Studies and Holocaust Research provides education and ongoing research on the Holocaust at national and international levels.
Otherwise, the Yad Vashem experience includes the Righteous Among the Nations exhibition, which honours the non-Jews who risked their lives to save Jews. Visitors can also see the Encyclopaedia of Communities. It's a record of the historical-geographical communities of Jews destroyed or damaged during the Nazi regime.
Some visitors may find the museum distressing. Children under 10 are not allowed to enter.
Address: Har Hazikaron
Website: www.yadvashem.org
Transport: By bus to Mt. Herzl, on Herzl Boulevard