The Israel Museum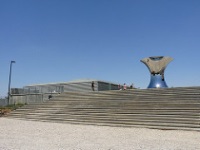 The Israel Museum © Ricardo Tulio Gandelman
The Israel Museum has achieved world-class status. Its remarkable collections include displays of archaeology from the Holy Land, a comprehensive compilation of Judaica and the ethnology of Jewish people, plus a fine-art collection encompassing Old Masters and renowned contemporary works. Many temporary exhibitions, publications, lectures and educational activities form part of the museum's cultural programme.
The Dead Sea Scrolls, which date from between the 3rd century BCE and the 1st century CE, are perhaps the museum's most exciting artefacts. A young Bedouin shepherd famously discovered them in a cave in 1947.
The Museum's Art Garden is another great attraction. Designed by the Japanese-American sculptor Isamu Noguchi, it is a fusion of Zen landscaping that incorporates the area's natural vegetation, such as fig trees, olive trees and rosemary bushes. Within this picturesque setting, visitors can view famous sculptures by Rodin, Bourdelle, Maillol, David Smith, Henry Moore, Richard Serra, Sol LeWitt and James Turrell.
Address: 11 Ruppin Boulevard, Hakyria, near the Knesset (Israeli Parliament).
Website: www.imj.org.il
Telephone: +972 2 670 8811
Transport: Buses 9, 17, 24, 24a, and 99
Opening times: Sunday, Monday, Wednesday and Thursday: 10am–5pm Tuesday: 4pm-9pm Fridays and Holiday Eves: 10am–2pm Saturdays and Holidays: 10am-5pm