Citadel or Tower of David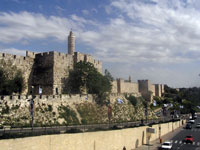 The Citadel was constructed in the 1st century BC as a fortress for King Herod, and has since served as a strategic defense position of the Old City. The tallest tower of the Citadel, the Phasael, is the place to appreciate the magnificent panoramic view of Jerusalem as well as the orientation of the Old City. The Citadel contains the excellent Museum of the History of Jerusalem, featuring fascinating displays of 4,000 years of the city's past in the courtyards and rooms of the fortress. Free tours of the citadel and museum are conducted in Hebrew on Mondays and Wednesdays at 10.30am, and in English every day except Friday and Saturday at 11am. The light and sound show held almost nightly is also a delightful way to learn about the history of Jerusalem. In fact, the Citadel of David is a great first stop for visitors to Jerusalem as it covers the history of the city from biblical times to the present in a very accessible and interesting way. There are captions in English and Hebrew and audio guides available so you can easily explore without taking one of the tours. The citadel itself is thrilling with some fascinating architectural elements - those who struggle with steps should note that there are a lot of them at this site and seeing the place properly requires a fair amount of climbing.
Address: Jaffa Gate
E-mail: tower@netvision.net.il
Website: www.towerofdavid.org.il
Telephone: (02) 626 5333
Transport: Bus 20 or 60
Opening times: July to August: Open Saturday to Thursday, from 9am to 5pm; Fridays and holidays from 9am to 2pm. September to June: Open Sunday to Thursday from 9am to 4pm; Saturdays from 9am to 2pm; closed Fridays.
Admission: NIS 30 (adults), NIS 20 (students), NIS 15 (children and pensioners).