Bethlehem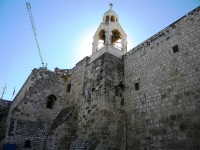 Church of the Nativity © Britchi Mirela
Bethlehem is just six miles (10km) south of Jerusalem, and is a major tourist attraction for pilgrims and visitors alike. Reputed to be the birthplace of Jesus, the town is charming despite its tourist-centred commercialism. The Church of the Nativity is the focal point for visitors, and is erected over the site of Jesus' birthplace.
Bethlehem is also a wonderful place to see a variety of monasteries that represent different Christian denominations. Christmas is celebrated on three separate dates in accordance with the Catholic Church calendar, the Eastern calendar followed by the Armenians, and the Julian calendar followed by the Greek Orthodox and Eastern churches.
For further exploration of the town's cultural diversity and to learn something about its secular history, visitors should stop at the Bethlehem Museum, which was established by the Arab Women's Union to celebrate the area's Palestinian cultural heritage. The exhibits include everything from traditional household items to clothing, jewellery and old photographs, and allow insight into the town's domestic history.
Travellers should note that Bethlehem is in the West Bank and vulnerable to regular outbreaks of violence between Jewish and Palestinian factions. The security situation should be checked before contemplating a visit.
Website: www.bethlehem-city.org