The Dead Sea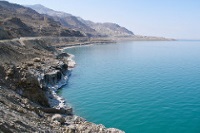 The Dead Sea © Gustavo Jeronimo
The Dead Sea and its immediate environment have many natural wonders. Wellness travellers are most interested in the high salt and mineral concentration found in its waters. Besides enabling visitors to float effortlessly on the surface, the mix gives the region's black mud tremendous therapeutic properties. Also, as the water is wonderfully warm, swimming is possible all year round.
Otherwise, the Dead Sea region boasts some fascinating archaeological sites, with traces of Persian, Greek, Roman and other civilisations remaining. Notable historical locations include the notorious biblical city of Sodom, which was destroyed along with Gomorra.
Transport: Bus 444 or 486 from west Jerusalem.