The Dead Sea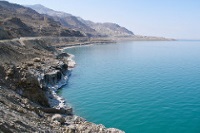 The Dead Sea © Gustavo Jeronimo
The Dead Sea and its immediate environment is a landscape abundant with natural wonders. Most notable of these is the high salt and mineral concentration found in the sea's waters, that enables visitors to float effortlessly on the surface. The therapeutic properties of the black mud found in the region is the result of a mixture of sea minerals and organic elements. For a completely rejuvenating experience, several Dead Sea spa resorts offer a range of health and beauty treatments. If you want a do-it-yourself treatment though, all you need to do is cover yourself in Dead Sea mud after your swim and allow it to dry on your body in the sun before washing it off again - your skin will feel amazing afterwards.
The water is also wonderfully warm, making swimming possible all year, even in winter. Some people complain of a stinging feeling in the Dead Sea, especially in eyes and mouths, which is simply due to the high salt content. If you have cuts and bruises they may well sting but the water is actually very good for skin ailments. Some visitors take goggles to protect their eyes but most just enjoy the floating sensation without submerging their faces.
The Dead Sea region also boasts some fascinating archaeological sites, with traces remaining of Persian, Greek, Roman and other civilizations. Notable historical locations include the notorious biblical city of Sodom that was destroyed along with Gomorra. Salt pillars emerge from this eight-mile (13km) geological ridge, located in the southern part of the Dead Sea area.
Transport: Bus 444 or 486 from west Jerusalem.