Tel Aviv Museum of Art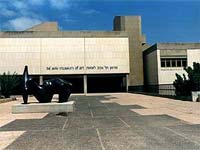 The Tel Aviv Museum of Art has boasted the country's leading exhibition of modern art since its inception in 1932. It also has, unsurprisingly, one of the best collections of Israeli art in the world. A permanent collection of European and American art features prominent Impressionist and Post-Impressionist paintings by Chagall, Dali, Cezanne, Vincent van Gogh, Jackson Pollock, and Monet, among others. The art on display at the museum includes numerous mediums and fields including painting, sculpture, print, drawing, photography, film, design and architecture. The museum aims to be a cultural hub in Tel Aviv and offers an active program of changing exhibitions, as well as exciting cultural programs such as music and dance performances, cinema screenings and public lectures. To get an idea of what's on at the museum during your visit check the website below. The museum is consistently rated highly by visitors and is a must for art lovers spending time in the city. It houses a very extensive collection and will probably command your attention for a few hours so allow yourself some time. There is a cafe on site.
Address: 27 Shaul Hamelech Boulevard
Website: www.tamuseum.com
Telephone: (03) 607 7020
Transport: Bus 9,18, 28, 70, 90 or 111
Opening times: Open Monday and Wednesday from 10am to 4pm; Tuesday and Thursday from 10am to 10pm; Friday from 10am to 2pm; and Saturday from 10am to 4pm. Closed Sundays.
Admission: NIS 48 (adults), NIS 38 (students), free for Children under 18 years. Other concessions available.