Tel Aviv Museum of Art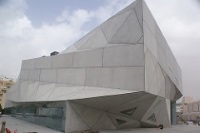 Tel Aviv Museum of Art © TijsB
The Tel Aviv Museum of Art has hosted the country's leading exhibition of modern art since its inception in 1932. It also has one of the best collections of Israeli art in the world.
Art lovers will enjoy the museum's permanent collection of European and American art, which features prominent Impressionist and Post-Impressionist paintings by Chagall, Dali, Cezanne, Vincent van Gogh, Jackson Pollock, and Monet, among others. Regarding the scope of its inventory, the museum showcases many mediums, including paint, sculpture, print, photography, film, design and architecture.
All in all, the institution aims to be a cultural hub in Tel Aviv and offers an active program of changing exhibitions. Visitors can look forward to exciting cultural programs such as music and dance performances, cinema screenings and public lectures.
Address: 27 Shaul Hamelech Boulevard
Website: www.tamuseum.com
Telephone: +972 3 6077020
Transport: Bus 9,18, 28, 70, 90 or 111
Opening times: Monday, Wednesday and Saturday: 10am-6pm Tuesday and Thursday: 10am-9pm Friday: 10am-2pm Closed Sundays.