Eretz Israel Museum (The Land of Israel Museum)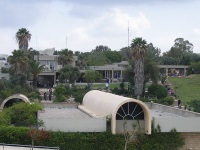 Eretz Israel Museum © Yair Talmor
The Eretz Israel Museum has a unique layout and character. It's more like a museum park than a standalone museum. It's clustered around the ancient mound of the Tel Kasile, where ongoing archaeological excavations are in progress. The museum consists of various pavilions, each displaying different cultural artefacts and collections. Visitors can purchase a map to help them navigate through this fascinating campus, which covers 3,000 years of history, culture and art relating to Israel. The permanent exhibits include displays on ethnography and folklore, ceramics, copper, coins, crafts, agriculture, domestic life, and many aspects of political and social history. The exhibitions are not all equally impressive and some are better organised than others but there are plenty of treasures to be discovered. There are also temporary exhibitions which change on a regular basis.
All exhibits are accessible for the disabled. Photography is permitted but only for private, non-commercial use and flashes and tripods are not allowed. There is a special museum shop at the entrance which sells clothes, jewellery and all sorts of souvenirs created by talented Israeli designers. You can also buy a wide range of replicas here. There is a cafe for refreshments and the Planetarium is right next door - it is possible to buy combined tickets. On hot days the air conditioning is a big bonus!
Address: 2 Haim Levanon Street, Ramat Aviv.
Website: www.eretzmuseum.org.il
Opening times: Monday to Wednesday: 10am-4pm Thursday: 10am-8pm Friday: 10am-2pm Saturday: 10am-4pm Closed Sundays
Admission: Adults: NIS 52. Concessions available.