Museum of the Jewish Diaspora (Beit Hatfutsot)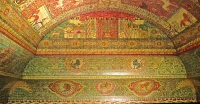 Museum of Jewish Diaspora © Sodabottle
The museum conveys the Jewish people's story, beginning with their expulsion from Israel at Roman hands, and leading to their return. Multi-storey displays and exhibitions show a diverse range of Jewish communities, and the common cultural and religious links that have bound them.
Visitors can engage with murals, reconstructions, dioramas, audio-visual displays, documentary films and interactive multimedia. Also, the Jewish Music Centre has thousands of recordings of Jewish music. Visitors will find traditional fare, music of communities that didn't survive the Holocaust, as well as works by Jewish composers.
The genealogy centre holds thousands of records from around the world, and allows visitors to explore their ancestry. It also welcomes them to register their own family trees.
Address: Tel Aviv University Campus, Klausner Street, Ramat Aviv
Website: www.bh.org.il
Opening times: Sunday to Wednesday: 10am-7pm Thursday: 10am-10.30pm Friday: 9am-2pm Saturday: 10am-3pm Closed Sundays and Jewish holidays.
Admission: Adults: NIS 45. Concessions available.