Museum of the Jewish Diaspora (Beit Hatefutsot)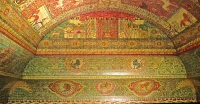 Museum of Jewish Diaspora © Sodabottle
The focus of this museum is to convey the story of the Jewish people, from the time of the expulsion of the Jews from Israel by the Romans 2,500 years ago, to their subsequent return to Israel. The multi-storey displays and exhibitions reflect the diverse Jewish communities that have been sustained over time by common cultural and religious links. The exhibitions are well put together and include murals, reconstructions, dioramas, audio-visual displays, documentary films and interactive multimedia. The Jewish Music Centre has thousands of recordings of Jewish music, from traditional fare to the music of communities that were wiped out in the Holocaust, as well as works by Jewish composers. There is also a genealogy centre where visitors can explore their ancestry with thousands of records of Jewish families from around the world, and register their own family trees for future generations.
Although the museum is extremely well-loved and impressive as it is, the Core Exhibition is undergoing an extensive renovation and the new museum will open completely in 2017. It seems, however, that in the interim the museum will still be open to visitors - check the website below to confirm it is open before planning your trip.
Address: Tel Aviv University Campus, Klausner Street, Ramat Aviv
Website: www.bh.org.il
Opening times: Open Sunday, Monday and Tuesday 10am to 4pm; Wednesday and Thursday 10am to 10pm; Friday 9am to 1pm. Closed on Saturdays and Jewish holidays.