Hamat Tiberias National Park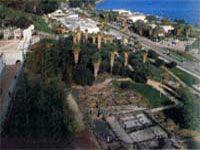 The 17 springs of Hamat Tiberias flow from a source that stretches 33ft (10m) below the ground. Its therapeutic powers have been used since antiquity to cure various ailments. In fact, the springs were so renowned for their healing properties and the relief they provided for various maladies that people were permitted to bath in them without censure on the Sabbath. The pools and various spa facilities and treatments are still the greatest draw for visitors but there are some cultural attractions as well.
The Hamat Tiberias synagogue, built between 337 and 286 BC, contains the oldest surviving mosaic floor in Israel. The central mosaic is a beautifully preserved design representing a large zodiac with Helios at its centre guiding his celestial chariot in the direction of the sun. The Hammam Suleiman Museum is also located in the park and is situated right at the entrance. Although there are some walking trails those looking for an unspoilt wilderness area may be disappointed as the popularity of the springs has led to the area becoming quite built up, and it is frequently crowded. There are shower and changing room facilities and lockers for personal belongings but it is a good idea to take your own towels and soap. There is a restaurant in the park but you can also pack a picnic.
Transport: Hamat Tiberias National Park is at the southern entrance to Tiberias, near the hot springs