Beit She'an National Park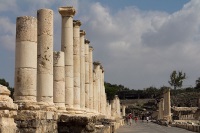 Beit She'an National Park © Oren Rozen
Beit She'an was established in the 5th century BC. The hilltop vantage made the settlement strategically valuable and there were many over the centuries who sought to conquer it. It was the seat of Egyptian rule before falling to the King of Assyria and was later resettled as a Hellenistic city during the time of Alexander the Great. A period of conquests then followed, until the Romans returned the city to its former residents. It prospered during the time of Hadrian and experienced its golden age after the Bar Kochva revolt. Numerous buildings were constructed during this time and the residents enjoyed a time of peaceful coexistence. After Christianity was declared the official religion of the Roman Empire in the 4th century AD, the face of the city changed markedly. This was followed by further conquests until an earthquake left the city in ruins. Settlements later sprung up around the site of the ruins and the city received an influx of people post-1948 and the establishment of the State of Israel.
It is now a thriving city built around the remains of an ancient centre. Most notable among the ruins is the Roman theatre, Byzantine bathhouse, Roman street and colonnade, and the amphitheatre used for gladiatorial battles. Budget between two and four hours to see the park properly.
Address: The Beit She'an National Park is located in the city of Beit She'an.