Gan Hashlosha National Park (Sahne)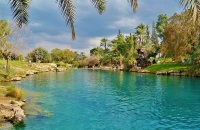 Gan Hashlosha National Park © Zairon
The Amal River's warm waters flow through the Gan Hashlosha National Park and can be enjoyed year round, with temperatures in the region averaging around 82ºF (28ºC). Park visitors can relax in its warm pools and rejuvenate in the natural Jacuzzi underneath an invigorating waterfall.
This is a wonderful place to spend the day swimming and exploring walking trails with the family. Lifeguards are on duty, and visitors will find changing-room and shower facilities, a kid's playground and plenty of tables and shaded areas for picnics. There is also a restaurant for those who don't want to bring their own picnic.
The hydro-powered flour mill, and the tower-and-stockade reconstruction are of cultural interest. So too is the Museum of Regional and Mediterranean Archaeology, which contains a collection of Greek tools and a display of archaeological findings from Beit She'an Valley, Iran and Egypt.
Address: Between Hashita junction and the city of Beit She'an.
Website: http://www.parks.org.il/sites/English/ParksAndReserves/ganhashloshasahne