Caesarea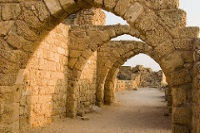 Caesarea © audrey_sel
Herod the Great established the ancient port city of Caesarea 2,000 years ago as a tribute to the Roman Emperor, Augustus Caesar. Before this, it was known as Straton's Tower after its founder Straton, who may have ruled Sidon in the 4th century BC.
Caesarea is conveniently located between Haifa and Tel Aviv and is a popular excursion for visitors. Its rich archaeological heritage includes the remains of a Roman aqueduct, a theatre, houses and palaces. The Roman theatre is used as a concert venue for big Israeli and international stars and is a special place to catch a show. Some of the archaeological finds from Caesarea can be seen in the museum at nearby Kibbutz Sdot Yam.
For scuba diving enthusiasts, diving among the ruins of Herod's city is an extraordinary experience. Caesarea has also become well known for some of its modern attractions, including some very fine private homes, Israel's only international golf course, luxury hotels, galleries and boutiques. There are some good cafes and restaurants as well. Miles of sandy beaches stretch along the Mediterranean coastline and visitors can enjoy the sun-soaked atmosphere against this luxurious backdrop.