Nazareth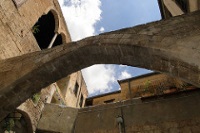 Nazareth © Adam Jones
Nazareth is one of the most important Christian holy sites, attracting pilgrims from all over the world. Jesus spent most of his life in the area.
Today, the city has both Muslim and Christian residents. Visitors can expect a quaint mix of red roofs and white churches to greet them from the Galilean hillside. The summit offers a glorious view of the Jezreel Valley.
The area is also home to some significant religious places. Visitors should stop at the Church of the Annunciation, where the upper sanctuary's walls depict scenes from the life of Mary. Catholic communities from around the world donated the work. The nearby Church of St Joseph houses the remains of Crusader bas-reliefs and inscriptions found during the Church's construction.
Nazareth's Synagogue Church is thought to stand over the site where Jesus preached of the Messiah's coming. Visitors will find an elegant mosque in the Mosque Quarter. The Turkish-style edifice was constructed in 1812 and belongs to the wealthy Al-Fahum family.