Venetian Hotel and Casino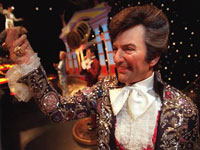 Liberace, Madame Tussaud's Las Vegas ©
No expense was spared building the Venetian Hotel, which aimed to recreate the city of Venice in the Nevada Desert, and the result is fairly spectacular. Guests can travel around the hotel in a gondola - real canals run through the hotel - and a replica of St Mark's Square and the Basilica turns from night to day every three hours; visitors have to look carefully to notice that the sky is actually a vast fresco. The only things missing are the pigeons and the backpackers. The casino itself is massive, featuring 2,500 slot machines and 125 gaming tables. For guests taking a break from the tables, there are five swimming pools, a fitness centre, and 17 restaurants - mostly pizzerias. One of the main attractions is Madame Tussauds Las Vegas, a wax museum presenting some of the world's biggest icons including stars, politicians, record-breaking athletes and legends.
Address: 3355 Las Vegas Boulevard
Website: www.venetian.com
Telephone: (702) 414 1000
Opening times: Hotel and Casino: daily 24 hours. Madame Tussauds: opening hours vary depending on the season, but generally daily 10am-11pm.
Admission: Hotel and Casino admission is free.