The Luxor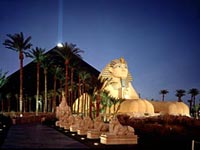 The Luxor is themed on ancient Egypt and is one of the most prominent sights on the Las Vegas Strip. It is a massive black-glass pyramid containing 36 floors of hotel rooms, and shining through it up into the night sky is the world's most powerful light beam, which they claim can be seen by planes circling Los Angeles. The ground floor of the hotel is given over to a massive casino, which stands beneath a recreation of King Tut's Tomb. Other than gambling, entertainment at the hotel includes an IMAX theatre, gyms, swimming pools and exhilarating shows by comedians, dancers and singers.
Address: 3900 South Las Vegas Boulevard
Website: www.luxor.com
Telephone: (702) 262 4444
Opening times: Daily 24 hours.
Admission: Free