Imperial Palace Auto Collection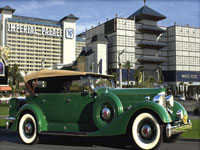 With over 250 classic antique cars on display (all available for purchase), the Imperial Palace Auto Collection is an absolute must for car enthusiasts. It is actually part of a larger collection and cars are rotated in and out of the showroom on a regular basis; once a car is sold it is replaced by another. Exhibited are rare models, racecars, muscle cars, touring roadsters and dozens of vehicles once owned by the rich and famous.
Address: Imperial Palace Casino, 3535 South Las Vegas Boulevard
E-mail: info@autocollections.com
Website: www.autocollections.com
Telephone: (702) 794 3174
Opening times: Daily 10am-6pm.
Admission: Free entrance vouchers are easily available at the Imperial Palace casino, otherwise tickets are $8.95