Martin Luther King Jr National Historic Site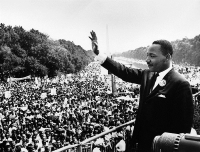 Martin Luther King Jr. © Public Domain
In January 1929 a baby boy was born in an upstairs bedroom of a house in Atlanta. Today the Victorian house is the centre of a protected site dedicated to the memory of that baby, Martin Luther King, who grew up to become America's Nobel prize-winning Civil Rights leader.
A half-mile stretch of Auburn Avenue, including King's birth home, the Ebenezer Baptist Church where he preached, and the memorial tomb at the King Center where he is buried, has been designated a historic site, drawing hundreds of visitors every day. The exhibits contained within provide insight into the life and times of this much-revered man. Tours are conducted every 30 minutes on a first-come first-serve basis.
Address: 450 Auburn Avenue
Website: www.nps.gov/malu
Telephone: (404) 331 5190 or 331 6922 for recorded information
Transport: Auburn Avenue bus 3 at the MARTA Five Points station, or MARTA's Atlanta Tourist Loop.
Opening times: Daily 9am-5pm (until 6pm from mid-June to mid-August).
Admission: Free