Atlanta Botanical Garden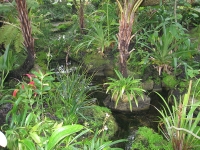 Indoors at Atlanta Botanical Gardens © Daderot
Be sure to visit the Atlanta Botanical Garden while in the city. The Fuqua Conservatory in particular is worthing seeing, a giant greenhouse containing different climate-controlled eco-systems. A walk through the conservatory takes visitors from a desert into a steamy tropical jungle. Outdoors the gardens are criss-crossed with dedicated nature walks, bypassing many quiet spots designed for peaceful contemplation. The garden permanently features numerous sculptures and art pieces, as well as hosting art exhibitions on a regular basis.
Address: 1345 Piedmont Avenue
Website: www.atlantabotanicalgarden.org
Telephone: (404) 876 5859
Transport: North Decatur bus 36 from the Arts Center Station; on Sundays, Monroe/Lindbergh bus 27
Opening times: Tuesday to Sunday 9am-7pm (April to October), 9am-5pm (November to March). Closed Mondays.
Admission: $22 adults, $16 children 3-12 years, other concessions available.