Fernbank Museum of Natural History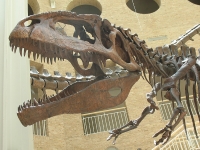 Fernbank Museum of Natural History © James Emery
As one of the South's pre-eminent museums, Fernbank Museum of Natural History is a gateway for discovery and exploration, unfolding the story of the earth's history, the physical universe, the environment and human culture through exhibitions, programs and films in the IMAX Theatre. Opened in 1992, Fernbank is accredited by the American Association of Museums and is 'Atlanta's Home to Dinosaurs,' a reputation highlighted by Giants of the Mesozoic, a distinctive permanent exhibition which features the world's largest dinosaurs.
Address: 767 Clifton Road
Website: www.fernbankmuseum.org
Telephone: (404) 929 6300
Opening times: Monday to Saturday 10am-5pm, Sunday 12pm-5pm.
Admission: Museum: $18 adults, $16 children 3-12. IMAX: $13 adults, $11 children 3-12. Other concessions and discounted combination tickets are also available.