Georgia Mountains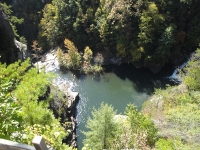 Tallulah Gorge © Thomsonmg2000
Northern Georgia is hilly and mountainous, dotted with numerous small towns, fascinating historic sites, national parks and forests.
Among the highlights of an exploration of this region are the New Echota State Historic Site (the last capital of the Cherokee nation); Chickamauga at Fort Oglethorpe, which is the oldest and largest Civil War military park; Jasper, where the marble quarries produced the marble used in the Capitol in Washington, DC; the Blue Ridge Scenic Railway, at the end of the Appalachian Highway; and the spectacular Tallulah Gorge near the town of Clayton.
The northwestern Georgia region is a paradise for nature lovers, offering hundreds of wooded hiking trails, sparkling trout streams, scenic lakes and camp sites. Most of the towns and attractions are within an hour's drive of Atlanta, making them perfect day trips or weekend breaks from the city.