Juliette Gordon Low Birthplace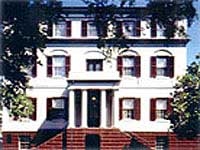 The majestic Regency town house that stands in Savannah's historic district was the birthplace of Juliette 'Daisy' Low, founder of the Girl Scouts of the USA. Visitors learn about the Girl Scouts movement and experience a taste of Victorian family life. The house, which was built in 1821, is a National Historic Landmark and is furnished with many original pieces and also features the artwork of Juliette Gordon Low.
Address: 10 East Oglethorpe Avenue
Website: www.juliettegordonlowbirthplace.org
Telephone: (912) 233 4501
Opening times: Tours are Monday to Saturday 10am-4pm; Sunday 11am-4pm. Closed on Wednesdays from November to February, and on major holidays.
Admission: $8 (adults), $7 (students 6-20). Other concessions available.