Savannah History Museum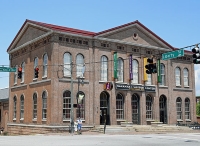 Savannah History Museum © Jud McCranie
The Savannah History Museum gives an excellent introduction to the city, its exhibits reflecting the city's history from her founding to the present day. The museum is housed in a restored railway station that dates from before the Civil War and is one of Georgia's 43 National Historic Landmarks. Beneath the building are the graves of Polish Count Pulaski and his fellow colonists, killed on this spot in 1779 while trying to drive off the British soldiers.
Address: 303 Martin Luther King Jr. Boulevard
Website: www.chsgeorgia.org
Telephone: (912) 651 6825
Opening times: Weekdays 8:30am-5pm, 9am-5pm on weekends.
Admission: $14 (adults), $4 (children) for an all-site pass, valid for three days.