Savannah History Museum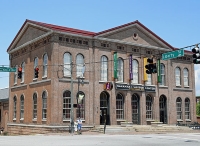 Savannah History Museum © Jud McCranie
The Savannah History Museum gives an excellent introduction to the city, its exhibits reflecting the city's history from its founding to the present day. The museum is housed in a restored railway station that dates from before the Civil War and is one of Georgia's 43 National Historic Landmarks. Visitors can enjoy an exhibit on Girl Scout founder Juliet Lowe, as well as sit on the bench used for the filming of 'Forest Gump'. Just across the street in the Battlefield Memorial Park, a memorial to the second bloodiest battle of the American Revolution.
Address: 303 Martin Luther King Jr. Boulevard
Website: www.chsgeorgia.org
Telephone: (912) 651 6825
Opening times: Open daily 9am-5.30pm
Admission: $14 (adults), $4 (children) for an all-site pass, valid for three days.