Telfair Museum of Art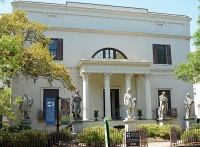 Telfair Academy © Jud McCranie
The Telfair Museum of Art is the oldest public art museum in the South, fittingly housed in an important historic building, the Owens-Thomas House. The house, overlooking Oglethorpe Square, was designed by William Jay, a young English architect, who introduced the British Regency style to America.
The art museum's permanent collection includes paintings, works on paper, sculpture, and decorative arts by both American and European artists. The museum encompasses the art gallery, restored rooms in the historic house, and the Jepson Center for the Arts. Guided tours are offered daily, included in the admission price.
Address: 207 W York Street.
Website: www.telfair.org
Telephone: (912) 790 8800
Opening times: Tuesday to Saturday 10am-5pm, Sunday and Monday 12pm-5pm.
Admission: $20 adults, $15 students, concessions available. Individual tickets for the Jepson Center for the Arts, the Telfair Museum and the Owens-Thomas House are available.