Fort Jackson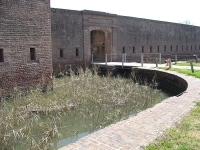 Fort Jackson © MArcin K.
A short distance to the east of central Savannah stands Georgia's oldest standing fort, surrounded by a deep tidal moat. The fort was preceded by a mud battery, the brick fort having been built in 1808. It was the headquarters for the Confederate river defences during the Civil War, when it was enlarged and strengthened. The fort today contains numerous exhibits about the war. Live historical re-enactments and cannon firings are staged daily in spring and summer. The fort also offers picturesque views of Savannah's skyline, and the grounds are a good place for a walk on a pleasant day.
Address: 1 Fort Jackson Road
Website: www.chsgeorgia.org/home.cfm/page/OldFortJackson.htm
Telephone: (912) 232 3945
Opening times: Daily 9am-5pm.
Admission: $8 adults, $4 children 2-12. Other concessions available.